Rio
(2011)
96 min
Animation, Adventure, Comedy, Family
United States of America
1 out of every 8 Americans is afraid of flying. Most of them don't have feathers.
Captured by smugglers when he was just a hatchling, a macaw named Blu never learned to fly and lives a happily domesticated life in Minnesota with his human friend, Linda. Blu is thought to be the last of his kind, but when word comes that Jewel, a lone female, lives in Rio de Janeiro, Blu and Linda go to meet her. Animal smugglers kidnap Blu and Jewel, but the pair soon escape and begin a perilous adventure back to freedom -- and Linda.
Trailers
92 min
Documentary
United States of America
Production companies: View Askew Productions, Miramax
A feature-length documentary about the making of Kevin Smith's "Clerks" and the commercial success that followed.
104 min
Comedy
United States of America
Hollywood had it coming
Production companies: Dimension Films, View Askew Productions, Miramax
When Jay and Silent Bob learn that their comic-book alter egos, Bluntman and Chronic, have been sold to Hollywood as part of a big-screen movie that leaves them out of any royalties, the pair travels to Tinseltown to sabotage the production.
Trailers
130 min
Action, Adventure, Thriller
United States of America
Space will never be the same.
Production companies: Digital Image Associates, Village Roadshow Pictures, Malpaso Productions, Mad Chance, Clipsal Films, Warner Bros. Pictures
Frank Corvin, 'Hawk' Hawkins, Jerry O'Neill and 'Tank' Sullivan were hotdog members of Project Daedalus, the Air Force's test program for space travel, but their hopes were dashed in 1958 with the formation of NASA and the use of trained chimps. They blackmail their way into orbit when Russia's mysterious 'Ikon' communications satellite's orbit begins to degrade and threatens to crash to Earth.
Trailers
117 min
Crime, Drama, Thriller, Mystery
United States of America
Your Paranoia Is Real.
Production companies: Lakeshore Entertainment, Screen Gems, Arlington Road Productions Corporation, Gorai / Samuelson Productions, Samuelson Productions
Threats from sinister foreign nationals aren't the only thing to fear. Bedraggled college professor Michael Faraday has been vexed (and increasingly paranoid) since his wife's accidental death in a botched FBI operation. But all that takes a backseat when a seemingly all-American couple set up house next door.
Trailers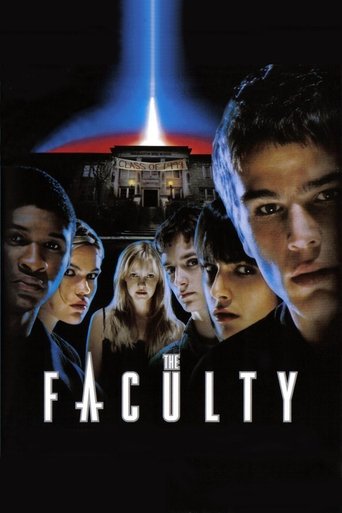 104 min
Horror, Science Fiction
United States of America
Take me to your teacher.
Production companies: Los Hooligans Productions, Dimension Films
When some very creepy things start happening around school, the kids at Herrington High make a chilling discovery that confirms their worst suspicions: their teachers really are from another planet! As mind-controlling parasites rapidly begin spreading from the faculty to the students' bodies, it's ultimately up to the few who are left – an unlikely collection of loners, leaders, nerds and jocks – to save the world from alien domination.
Trailers
150 min
Drama, Science Fiction, Mystery
United States of America
If it's just us, it seems like an awful waste of space.
Production companies: South Side Amusement Company, Warner Bros. Pictures
Contact is a science fiction film about an encounter with alien intelligence. Based on the novel by Carl Sagan the film starred Jodie Foster as the one chosen scientist who must make some difficult decisions between her beliefs, the truth, and reality.
Trailers
Other videos
145 min
Crime, Drama, Science Fiction, Thriller
United States of America
You know you want it.
Set in the year 1999 during the last days of the old millennium, the movie tells the story of Lenny Nero, an ex-cop who now deals with data-discs containing recorded memories and emotions. One day he receives a disc which contains the memories of a murderer killing a prostitute. Lenny investigates and is pulled deeper and deeper in a whirl of blackmail, murder and rape. Will he survive and solve the case?
Trailers
142 min
Comedy, Drama, Romance
United States of America
Life is like a box of chocolates...you never know what you're gonna get.
Production companies: Paramount
A man with a low IQ has accomplished great things in his life and been present during significant historic events—in each case, far exceeding what anyone imagined he could do. But despite all he has achieved, his one true love eludes him.
Trailers
Other videos
135 min
Drama, Mystery
United States of America
Meet Laura Palmer... In a town where nothing is as it seems... And everyone has something to hide.
Production companies: New Line Cinema, CiBy 2000
In the questionable town of Deer Meadow, Washington, FBI Agent Desmond inexplicably disappears while hunting for the man who murdered a teen girl. The killer is never apprehended, and, after experiencing dark visions and supernatural encounters, Agent Dale Cooper chillingly predicts that the culprit will claim another life. Meanwhile, in the more cozy town of Twin Peaks, hedonistic beauty Laura Palmer hangs with lowlifes and seems destined for a grisly fate.
Trailers