Stephen Bridgewater
(65 years)
Born: 1953-08-24 in Hutchinson, Kansas, USA
85 min
TV Movie, Romance
United States of America
finding the real you
Production companies: Larry Levinson Productions
Diane McCarthy (Leah Pipes) is a reality television producer for her arrogant ex-boyfriend's show highlighting travel destinations. While driving to her next assignment, Diane swerves off the road and gets stuck as a storm approaches. Nearby, she sees the Forest Cove bed and breakfast. Owner, Helen (Lindsay Wagner), offers Diane a complimentary room until her car is ready. Diane, desperate for shelter, accepts Helen's offer and meets Helen's handsome son Andy (Rick Malambri). Impressed by its charm, Diane changes plans for the next episode to instead focus on Forest Cove. Helen is excited and hopes the show will bring in much needed business. Andy, preparing to sell the struggling property, is against it. Despite his objections, Andy and Diane bond while preparing for the show. But it gets complicated when, Jared, Diane's ex and host of the show, arrives and throws a wrench in things.
Production companies: Larry Levinson Productions
Wes Rawlins is considered one of the best bounty hunters in the West. His life changes when he finds out that his mother is dead and the man responsible is still at large. Wes believes that his long lost father Ray Eastman is responsible and sets out to find him seeking revenge...
Meteor
Meteor (2009)
188 min
Action, Drama, Science Fiction
United States of America
Production companies: Grand Army Entertainment, Larry Levinson Productions, Alpine Medien Productions, RHI Entertainment
Somewhere on the outskirts of our solar system, the unthinkable occurs. A giant asteroid collides with a smaller one and changes direction - headed directly toward The Earth. The burning meteor rain that beats down with devastating force, is only a foretaste of what is to come. Just a few days from reaching the atmosphere Kassandra, the meteor that is three times as big as Mount Everest and with power in an instant to destroy all life on planet Earth.
81 min
Action, Western
United States of America
A group of women contracted a strange fever and a former sheriff is responsible for taking them to the hospital in the nearest town, but in their way they will encounter a gang of murderers. His only hope is a woman whose beauty is matched only by his skill with weapons.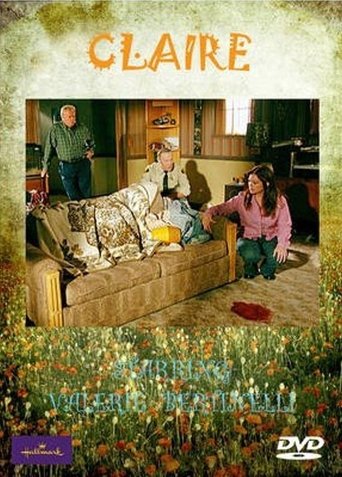 96 min
TV Movie, Drama, Thriller
Claire Bannion is a widowed mother of two who possesses psychic powers.
84 min
Drama, Romance, TV Movie
United States of America
Production companies: Brosier, RHI Entertainment, Alpine Medien Productions, Larry Levinson Productions
US Army sergeant Cody Cullen's horror tour in Afghanistan ends when his mate Jonesy is blown to pieces while they deliver medical supplies in Nurestan. Cody is sent home to return private possessions to Jonesy's bride turned widow. On his way home he passes Nevada City, California, where he meets Faith Spelman, who writes the parish's Christmas cards to lonely soldiers, coincidentally including him, an orphan. He happens to save her dad Luke from a serious car run-over. The Spellmans invite Cody home for dinner, then the Christmas tide. He proves a great help in the family logging firm. Vietenam vet Luke wants Cody as son-in-law, but although charmed, Faith still seems committed to rarely present fiancé Paul, a wine broker.
Trailers
Other videos
118 min
Adventure, Fantasy, Action, Comedy, Thriller
Czech Republic, United Kingdom, United States of America
Eliminating Evil Since 1812.
Production companies: Revolution Sun Studios, The Weinstein Company, Summit Entertainment, Atlas Entertainment, Mosaic Media Group, Reforma Films, Dimension Films, Metro-Goldwyn-Mayer
Folklore collectors and con artists, Jake and Will Grimm, travel from village to village pretending to protect townsfolk from enchanted creatures and performing exorcisms. However, they are put to the test when they encounter a real magical curse in a haunted forest with real magical beings, requiring genuine courage.
Trailers
88 min
Mystery, Crime, Drama
McBride's case involves two larger than life radio stars who host the highly successful morning show "Ron and Bob." But when Ron is murdered and all the evidence points to Bob, McBride and Phil begin investigating and what they turn up are a lot of unanswered questions.
87 min
Drama, Romance, Family, TV Movie
United States of America
Hard Life. Easy Living. Expect The Unexpected.
Production companies: Larry Levinson Productions, Alpine Medien Productions, Hallmark Entertainment
Matt, a self-absorbed young attorney, goes to visit his grandfather - an eccentric recluse who lives in the backwoods without gas, electricity, or phone - to convince him not to give away his estate as he plans to do. But in the end, it is Matt who is convinced to make some life changes. Jason London and Ed Asner star. When a woman needs someone to look after her aging father (Ed Asner), her irresponsible son isn't her first choice. Matt (Jason London) can't get his career, love life, or wallet in order, so how can he be expected to check in on his grandfather? But desperation leads Matt to visit his grandfather at his home in the middle of nowhere. For Matt, this barebones life takes some adjustment, but then he meets a single mother who helps him learn about the simple life.
85 min
TV Movie, Thriller, Crime, Mystery
United States of America
Production companies: Alpine Medien Productions, Hallmark Entertainment, MAT IV
Amateur sleuth Samantha Kinsey's latest case has her trying to figure out who killed her best friend Barbara after she was left out of her family's will and every one of the family members become suspects.