Jacqueline Lovell
(44 years)
Born: 1974-12-09 in Southern California
Jacqueline Lovell (born 9 December 1974) is an American actress born and raised in Southern California. Most of her roles have been in B-films and erotic movies.
76 min
Horror, Science Fiction
Production companies: Full Moon Features
The third chapter in the splat-tastic horror 'greatest hits' film series spotlighting some of Full Moon's strangest and sickest sequences framed by an all new narrative, This time, we follow the further adventures of a masochistic drifter trapped in the lair of "The Gore Collector," a sadistic curator of carnage who was has chosen the drifter to be the heir to take over his evil operation.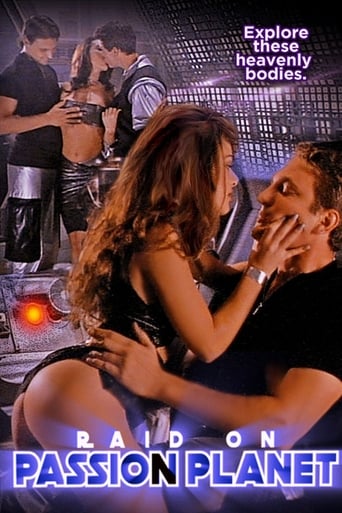 101 min
Science Fiction
United States of America
Explore these heavenly bodies.
Production companies: Surrender Cinema
In the depths of sexy space, orbiting the hottest star in the galaxy, is a planet of space babes and astro-nymphs who crave a close encounter with the men of Earth. These cosmic cuties have nothing to do all day but frolic in the company of the other nubile natives of the Passion Planet. But not all is soft and pink on this orgasmic orb. Wicked Women's Prison Colony Wardens and Puritanical Political Putas threaten to harsh the welcoming vibe of this homogenous hive of horny hotties, and when interplanetary invaders arrive to haul their sisters onto sex trafficking slave ships, they set their phasers to stun for a red hot revenge. So put your ion engines on full thrust and engage these interstellar beauties in a sensual showdown in the naked reaches of seductive space and witness firsthand the perils of a poontang planet.
87 min
Comedy, Horror
United States of America
Production companies: Full Moon Features
An obsessed fan and his mother kidnap former 'scream queens' and force them to reenact their famous film roles...with deadly results.
Trailers
98 min
Animation
United States of America
Family inherits an old house and to their surprise, finds the home filled with wonderful colorful creatures that brings the family together.
Foreign, Horror, Science Fiction
Australia
87 min
Horror
United States of America
The screams are dying to get out!
Production companies: Wizard Entertainment
This three-part anthology is nothing but shortened previous Full Moon releases directed by David 'Boxer Briefs' DeCoteau. Prison of the Dead (2000) has become "Crypt of the Undead," The Killer Eye (1999) has become "Terror of Vision" and Totem (1999) has become "Masters of Death."
When Only The Blind Can See
Three entwined stories of love, lust, danger and revenge.
96 min
Comedy
United States of America
The boss's mansion. The boss's girlfriend. Someone's gonna get burned.
Production companies: Mystique Films Inc.
When brainy office assistant Simon is left in charge of the boss's Hollywood mansion, the weekend becomes an opportunity of a lifetime. Entrusted by power-hungry movie producer Alan to guard the estate, Simon thinks he's finally made the grade until he learns that his friends and co-workers have their own plans for the place...
72 min
Comedy, Horror, Science Fiction
United States of America
Terror Vision
Production companies: Full Moon Pictures
A mad scientist's experiment goes awry, turning a homeless man's eyeball into a giant killing machine that has an insatiable appetite for young women.
Trailers
A woman working in the B movie industry begins examining the industry and the damaged, desperate people who work in it.