David M. Dunlap
( — years)
The night turns dangerous when a woman seeks refuge from a storm in an isolated diner. Everyone has a secret and nothing is what it seems.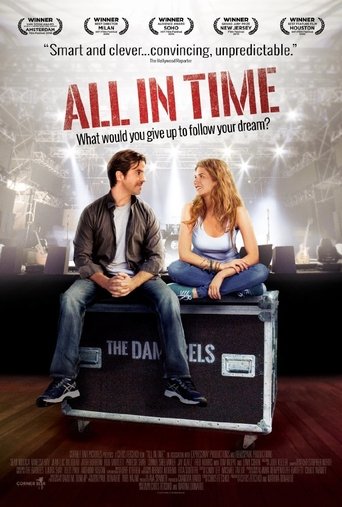 98 min
Music, Comedy, Drama
United States of America
Charlie quits his job to move home to manage his hometown rock band. His supportive girlfriend shares his love for the band, until struggles within the band force them to make choices that will impact their lives forever.
99 min
Comedy, Drama, Family
United States of America
Family is where you find it
Production companies: Arcady Bay Entertainment
Wisecracking, gum-chewing 12-year-old Gilly is well known in the foster system. Totally unmanageable, she has stayed with more families than she can remember and has outwitted them all. After all, how can she settle down when her real mother, the beautiful and glamourous Courtney, might be out there waiting for her? When Gilly is sent to live with the Trotters, the weirdest family yet, she isn't planning to stick around. But cheerful, affectionate Maime Trotter isn't giving up on Gilly just yet...
Trailers
128 min
Crime, Thriller
France, Germany, United Kingdom, United States of America
The truth needs no translation.
Homepage: http://www.theinterpretermovie.com/
Production companies: Mirage Enterprises, Universal Pictures, StudioCanal, Working Title Films, Misher Films, Motion Picture JOTA Produktions
After Silvia Broome, an interpreter at United Nations headquarters, overhears plans of an assassination, an American Secret Service agent is sent to investigate.
Trailers
91 min
Crime, Drama, Horror, Mystery, Science Fiction, Thriller
United States of America
You'll Never Forget The Ones You Love
Production companies: Visual Arts Entertainment, Revolution Studios, Jinks/Cohen Company
Telly Paretta is a grieving mother struggling to cope with the loss of her 8-year-old son. She is stunned when her psychiatrist reveals that she has created eight years of memories about a son she never had. But when she meets a man who has had a similar experience, Telly embarks on a search to prove her son's existence, and her sanity.
Trailers
Other videos
99 min
Horror, Comedy
United Kingdom
A romantic comedy. With zombies.
Production companies: De Wolfe Music, Universal Pictures, WT2 Productions, StudioCanal, Working Title Films, Big Talk Productions, Inside Track 2, Film4 Productions
Shaun lives a supremely uneventful life, which revolves around his girlfriend, his mother, and, above all, his local pub. This gentle routine is threatened when the dead return to life and make strenuous attempts to snack on ordinary Londoners.
Trailers
89 min
Comedy
United Kingdom
It takes a lotta bottle to be the champ
Production companies: Working Title Films, WT2 Productions, Universal Pictures, StudioCanal
When milkman Jimmy Connelly accidentally puts Britain's contender for the World title out of action, he is propelled from amateur boxer to the world stage and announced as the replacement contender for the championship fight.
Trailers
120 min
Drama, Science Fiction
Germany, United Kingdom, United States of America
Change the way you look at the world.
Homepage: http://www.k-pax.com/
Production companies: Intermedia Films, Lawrence Gordon Productions, Pathé Pictures International, IMF Internationale Medien und Film GmbH & Co. 3. Produktions KG
Prot is a patient at a mental hospital who claims to be from a far away Planet. His psychiatrist tries to help him, only to begin to doubt his own explanations.
Trailers
110 min
Comedy, Drama
United States of America
Family Isn't A Word ... It's A Sentence.
Production companies: Touchstone Pictures, American Empirical Pictures
Royal Tenenbaum and his wife Etheline had three children and then they separated. All three children are extraordinary --- all geniuses. Virtually all memory of the brilliance of the young Tenenbaums was subsequently erased by two decades of betrayal, failure, and disaster. Most of this was generally considered to be their father's fault. "The Royal Tenenbaums" is the story of the family's sudden, unexpected reunion one recent winter.
Trailers
Other videos
131 min
Crime, Drama, Thriller, Horror
United Kingdom, United States of America
His genius undeniable. His evil, unspeakable.
Production companies: Dino De Laurentiis Company, Universal Pictures, Scott Free Productions, Metro-Goldwyn-Mayer
After having successfully eluded the authorities for years, Hannibal peacefully lives in Italy in disguise as an art scholar. Trouble strikes again when he's discovered leaving a deserving few dead in the process. He returns to America to make contact with now disgraced Agent Clarice Starling, who is suffering the wrath of a malicious FBI rival as well as the media.
Trailers