104 min
Comedy
United States of America
One Word Can Change Everything.
Production companies: The Zanuck Company, Village Roadshow Pictures, Heyday Films, Warner Bros. Pictures
Carl Allen has stumbled across a way to shake free of post-divorce blues and a dead-end job: embrace life and say yes to everything.
Trailers
110 min
Action, Comedy, Thriller
Canada, Russia, United States of America
Saving The World...And Loving It!
Homepage: http://getsmartmovie.warnerbros.com/
Production companies: WV Films IV, Village Roadshow Pictures, Mosaic Media Group, Mad Chance, Callahan Filmworks, Atlas Entertainment, Mel's Cite du Cinema, Warner Bros. Pictures
When the identities of secret agents from Control are compromised, the Chief promotes hapless but eager analyst Maxwell Smart and teams him with stylish, capable Agent 99, the only spy whose cover remains intact. Can they work together to thwart the evil plans of KAOS and its crafty operative?
Trailers
99 min
Action, Comedy, Horror, Thriller
Australia, United States of America
Do you hate spiders? Do you really hate spiders? Well they don't like you either.
Production companies: Centropolis Entertainment, Village Roadshow Pictures, NPV Entertainment, Electric Entertainment, Warner Bros. Pictures
The residents of a rural mining town discover that an unfortunate chemical spill has caused hundreds of little spiders to mutate overnight to the size of SUVs. It's then up to mining engineer Chris McCormack and Sheriff Sam Parker to mobilize an eclectic group of townspeople, including the Sheriff's young son, Mike, her daughter, Ashley, and paranoid radio announcer Harlan, into battle against the bloodthirsty eight-legged beasts.
Trailers
97 min
Comedy
United States of America
The con is on.
Production companies: Universal Pictures
On the verge of bankruptcy and desperate for his big break, aspiring filmmaker Bobby Bowfinger concocts a crazy plan to make his ultimate dream movie. Rallying a ragtag team that includes a starry-eyed ingenue, a has-been diva and a film studio gofer, he sets out to shoot a blockbuster featuring the biggest star in Hollywood, Kit Ramsey -- only without letting Ramsey know he's in the picture.
Trailers
89 min
Action, Crime, Drama, Mystery, Thriller
United States of America
Vengeance knows no boundaries.
Production companies: Artisan Entertainment
The Limey follows Wilson, a tough English ex-con who travels to Los Angeles to avenge his daughter's death. Upon arrival, Wilson goes to task battling Valentine and an army of L.A.'s toughest criminals, hoping to find clues and piece together what happened. After surviving a near-death beating, getting thrown from a building and being chased down a dangerous mountain road, the Englishman decides to dole out some bodily harm of his own.
Trailers
100 min
Action, Drama, Thriller
United States of America
Desperate times call for. . .
Production companies: TriStar Pictures, Mandalay Entertainment
San Francisco police officer Frank Connor is in a frantic search for a compatible bone marrow donor for his gravely ill son. There's only one catch the potential donor is convicted multiple murderer Peter McCabe who sees a trip to the hospital as the perfect opportunity to get what he wants most freedom. With McCabe's escape, the entire hospital becomes a battleground and Connor must pursue and, ironically, protect the deadly fugitive who is his son's only hope for survival.
Trailers
117 min
Crime, Drama
United States of America
Production companies: MGM Television
During the trial of a man accused of his father's murder, a lone juror takes a stand against the guilty verdict handed down by the others as a result of their preconceptions and prejudices. The film is adapted by Reginald Rose from his own 1957 film version (directed by Sidney Lumet) and from the Westinghouse One television production that predated it. George C. Scott won a Golden Globe for his supporting role; righteous juror Jack Lemmon was denied such an honor for Best Actor, but recipient Ving Rhames (for Don King) dedicated his award to Lemmon.
Trailers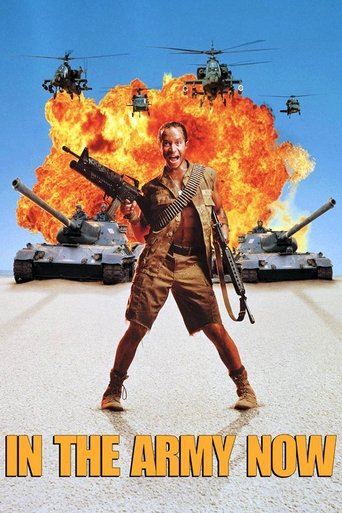 91 min
Comedy
United States of America
Sleep tight, America! The safety of the free world rests in his hands!
Production companies: Hollywood Pictures
Bones Conway and Jack Kaufman didn't really know what they were in for when they enlisted in the U.S. Army; they just wanted to get a job and make some money. But these new recruits are so hapless, they run the risk of getting kicked out before their military careers even begin. Soon, though, they're sent to the Middle East to fight for their country -- which they manage to do in their own wacky ways.
Trailers
142 min
Comedy, Drama, Romance
United States of America
Life is like a box of chocolates...you never know what you're gonna get.
Production companies: Paramount
A man with a low IQ has accomplished great things in his life and been present during significant historic events—in each case, far exceeding what anyone imagined he could do. But despite all he has achieved, his one true love eludes him.
Trailers
Other videos
103 min
Comedy
United States of America
The best of enemies until something came between them.
Production companies: John Davis, Lancaster Gate, Warner Bros. Pictures
For decades, next-door neighbors and former friends John and Max have feuded, trading insults and wicked pranks. When an attractive widow moves in nearby, their bad blood erupts into a high-stakes rivalry full of naughty jokes and adolescent hijinks. Will this love triangle destroy the two old grumps? Or will the geriatric odd couple overcome their differences and rediscover their friendship?
Trailers