Lindsey Buckingham
(69 years)
Born: 1949-10-08 in Palo Alto, California, United States
​From Wikipedia, the free encyclopedia Lindsey Adams Buckingham (born October 3, 1949) is an American guitarist, singer, composer and producer, most notable for being the guitarist and male lead singer of the musical group Fleetwood Mac. Aside from his tenure with Fleetwood Mac, Buckingham has also released five solo albums and a live album. As a member of Fleetwood Mac, he was inducted into the Rock and Roll Hall of Fame in 1998. Description above from the Wikipedia article Lindsey Buckingham, licensed under CC-BY-SA, full list of contributors on Wikipedia.
The classic rumours-era Fleetwood Mac lineup unite to headline the Isle of Wight 2015 festival.
106 min
Documentary, Music
United States of America
That board. That room. That is Sound City.
The history of Sound City and their huge recording device; exploring how digital change has allowed 'people that have no place' in music to become stars. It follows former Nirvana drummer and Foo Fighter David Grohl as he attempts to resurrect the studio back to former glories.
Trailers
Third of nine volumes presenting of some of the best moments of speeches, performances and backstage moments of the annual Rock and Roll Hall of Fame ceremonies. Footage was culled from the RockHalls archives and represent 24 years of events. Includes exclusive performances by U2 with Bruce Springsteen, Queen with Dave Grohl and Taylor Hawkins, The Byrds with Don Henley and Jackson Browne and many more.
60 min
Music, Documentary
United Kingdom
The inside story of Fleewood Mac from their formation in 1967 to the present day (2009) - as told by the members of the band.
Fleetwood Mac are one of the biggest-selling bands of all time and still on the road. Their story, told in their own words, is an epic tale of love and confrontation, of success and loss. Few bands have undergone such radical musical and personal change. The band evolved from the 60s British blues boom to perfect a US West Coast sound that saw them sell 40 million copies of the album Rumours. However, behind the scenes relationships were turbulent. The band went through multiple line-ups with six different lead guitarists. While working on Rumours, the two couples at the heart of the band separated, yet this heartache inspired the perfect pop record.
This double-disc package by Lindsey Buckingham, guitarist, songwriter, producer, and principal musical architect of Fleetwood Mac's multi-platinum-selling sound, contains a live DVD of concert performances with a bonus documentary, plus a CD that includes all but one of the performances on the DVD. The material ranges from tunes on his last solo album, the brilliant Under the Skin, as well as Fleetwood Mac nuggets, and a choice track or two from his other solo offerings. His band features second guitarist Neale Heywood, drummer Takuya "Taku" Hirano, and bassist/keyboardist Brett Tuggle. Lindsay Vannoy plays additional keyboards on some cuts.
79 min
Music, Documentary
FLEETWOOD MAC reunite for the first time (sans Christine McVie) to record their first studio album in over fifteen years. Follow them as they write and record their album Say You Will from the first day Stevie Nicks walks into the studio to the opening night of their tour. Cameras rolled practically every moment from start to finish. Fleetwood Mac: Destiny Rules captures the ups and downs of a legendary, storied band like no other documentary before.
160 min
Music
United States of America
Live in Boston is a live performance by the band Fleetwood Mac, released June 15, 2004. The concert was filmed September 23 and 24, 2003 at the Fleet Center (now known as the TD Banknorth Garden) in Boston, Massachusetts during the group's Say You Will Tour. The concert is a 2 DVD set, and also comes with a 'sampler' CD, containing the audio of 10 songs from the show. DVD 1 : The chain - Dreams - Eyes of the world - Peacekeeper - Second-hand news - Say you will - Never going back again - Rhiannon - Come - Gypsy - Big love - Landslide DVD 2 : Say goodbye - What's the world coming to - Beautiful child - Gold dust woman - I'm so afraid - Silver springs - Tusk - Stand back - Go your own way - World turning - Don't stop - Goodbye baby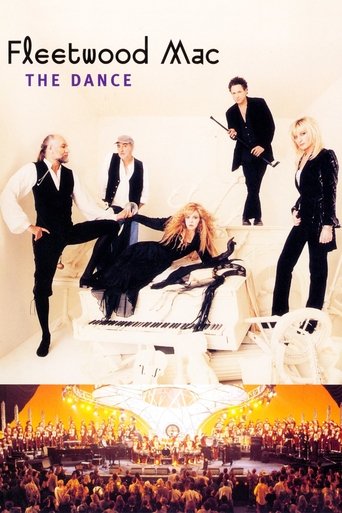 90 min
Music
United States of America
Production companies: MTV Concerts
Recorded live at Warner Brothers Studios in Burbank, Fleetwood Mac performs their greatest hits – including the classics 'Rhiannon', 'Everywhere', 'Dreams', 'Don't Stop' and 'Landslide' – and several new songs.
142 min
Comedy, Drama, Romance
United States of America
Life is like a box of chocolates...you never know what you're gonna get.
Production companies: Paramount
A man with a low IQ has accomplished great things in his life and been present during significant historic events—in each case, far exceeding what anyone imagined he could do. But despite all he has achieved, his one true love eludes him.
Trailers
Other videos
1977 documentary film created to promote the European leg of the "Rumours" tour. Includes behind-the-scenes interviews, rehearsal footage and includes footage of Fleetwood Mac performing in concert at the University of California, Santa Barbara (UCSB) in May 1976: World Turning / Rhiannon / Say You Love Me / Go Your Own Way / You Make Loving Fun / I'm So Afraid