Timothy Greenwood
( — years)
75 min
Drama
United Kingdom
The Welsh writer Arthur Machen wrote many acclaimed stories of the supernatural which brought him great fame in the 1920s. His work has faded from view in the decades since leaving just a dedicated following including Stephen King and Mick Jagger. Holy Terrors is a new film aiming to bring Machen to a new audience and adapts six of his tales into a spine-tingling portmanteau film. Effectively capturing the unique atmosphere and feel of Machen's writing, Holy Terrors is sure to provide a night or two of uneasy sleep for the viewer.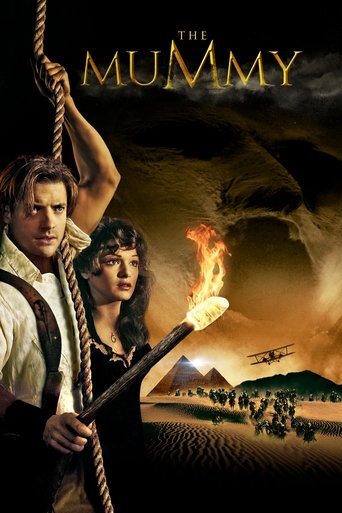 124 min
Adventure, Action, Fantasy
United States of America
The legend you know. The adventure you have yet to imagine.
Dashing legionnaire Rick O'Connell stumbles upon the hidden ruins of Hamunaptra while in the midst of a battle to claim the area in 1920s Egypt. It has been over three thousand years since former High Priest Imhotep suffered a fate worse than death as a punishment for a forbidden love—along with a curse that guarantees eternal doom upon the world if he is ever awoken.
Trailers
120 min
Action, Drama, Romance
United States of America
Heaven and Earth are about to collide.
Production companies: Paramount, Zanuck/Brown Productions, Manhattan Project, DreamWorks
A seven-mile-wide space rock is hurtling toward Earth, threatening to obliterate the planet. Now, it's up to the president of the United States to save the world. He appoints a tough-as-nails veteran astronaut to lead a joint American-Russian crew into space to destroy the comet before impact. Meanwhile, an enterprising reporter uses her smarts to uncover the scoop of the century.
Trailers
121 min
Action, Adventure, Thriller
United States of America
As the stakes get higher, the ride gets even faster.
Production companies: Blue Tulip Productions, 20th Century Fox
Sandra Bullock and Jason Patric star as a young couple whose dream cruise turns to terror when a lunatic computer genius (Willem Dafoe) sets a new course for destruction.
Trailers
115 min
Action, Adventure, Thriller
United States of America
No air. No escape. No time.
Production companies: Davis Entertainment, Universal Pictures
A group of armed robbers fleeing the police head for the New Jersey Tunnel and run right into trucks transporting toxic waste. The spectacular explosion that follows results in both ends of the tunnel collapsing and the handful of people who survived the explosion are now in peril. Kit Latura is the only man with the skill and knowledge to lead the band of survivors out of the tunnel before the structure collapses.
Trailers
113 min
Action, Adventure, Drama
United States of America
The Dark Side of Nature.
Production companies: Constant c Productions, Universal Pictures, Amblin Entertainment, Warner Bros. Pictures
TV weatherman Bill Harding is trying to get his tornado-hunter wife, Jo, to sign divorce papers so he can marry his girlfriend Melissa. But Mother Nature, in the form of a series of intense storms sweeping across Oklahoma, has other plans. Soon the three have joined the team of stormchasers as they attempt to insert a revolutionary measuring device into the very heart of several extremely violent tornados.
Trailers
Other videos
142 min
Comedy, Drama, Romance
United States of America
Life is like a box of chocolates...you never know what you're gonna get.
Production companies: Paramount
A man with a low IQ has accomplished great things in his life and been present during significant historic events—in each case, far exceeding what anyone imagined he could do. But despite all he has achieved, his one true love eludes him.
Trailers
Other videos
127 min
Adventure, Science Fiction
United States of America
An adventure 65 million years in the making.
A wealthy entrepreneur secretly creates a theme park featuring living dinosaurs drawn from prehistoric DNA. Before opening day, he invites a team of experts and his two eager grandchildren to experience the park and help calm anxious investors. However, the park is anything but amusing as the security systems go off-line and the dinosaurs escape.
Trailers
139 min
Adventure, Action, Thriller, Science Fiction
United States of America
There's everything you've ever known about adventure, and then there's The Abyss.
Production companies: Lightstorm Entertainment, Pacific Western, 20th Century Fox
A civilian oil rig crew is recruited to conduct a search and rescue effort when a nuclear submarine mysteriously sinks. One diver soon finds himself on a spectacular odyssey 25,000 feet below the ocean's surface where he confronts a mysterious force that has the power to change the world or destroy it.
Trailers